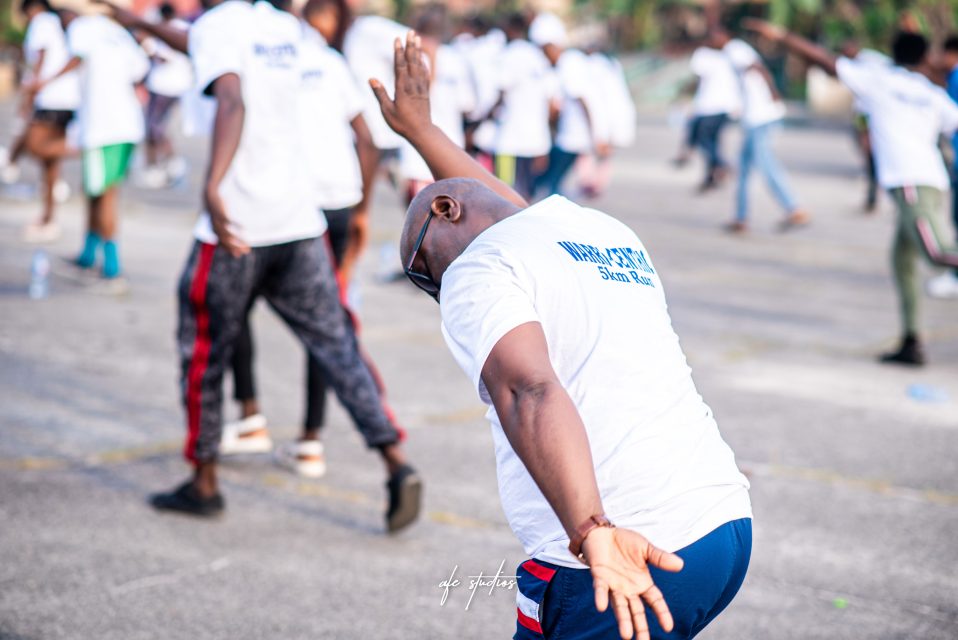 The early hours of the 4th day of February 2023 saw employees, friends and well-wishers of CMLP, gather at the NNPC Housing Complex, Ekpan-Warri, Delta State to participate in Warri-Centric 4.0. Warri- Centric is CMLP's legacy annual 5km run and has been hosted for the past four years. This event is not only aimed at promoting fitness and healthy lifestyle habits but also exhibits the firm's devotion to community development. This year, as always, the atmosphere was electric as runners of all ages and skill/fitness levels took a chance to display their running skills. The runners were divided into various […]
Read more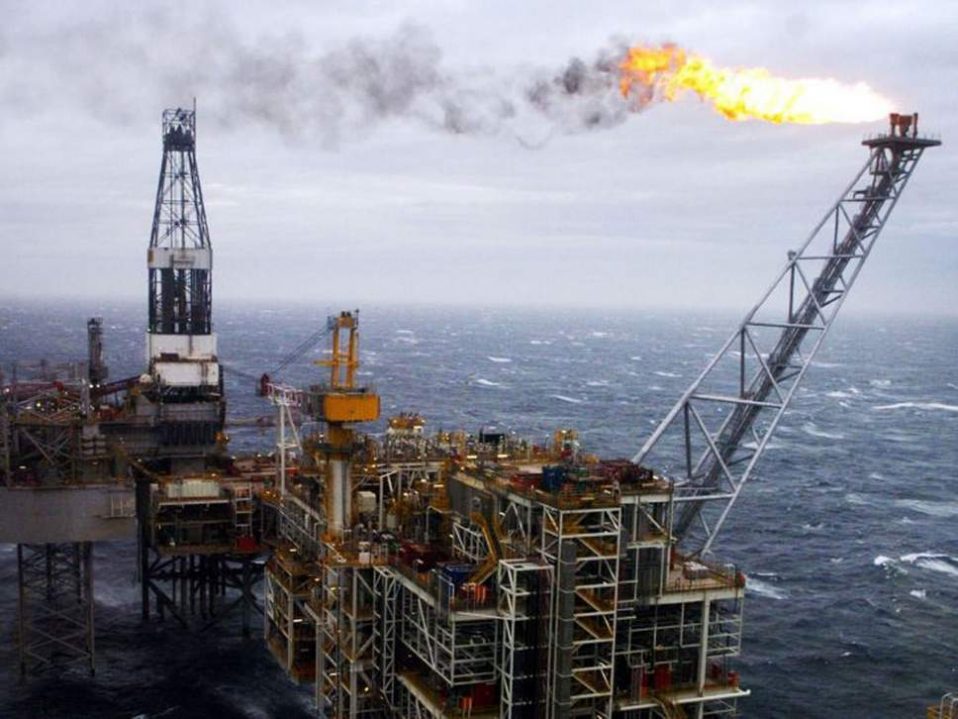 The Guideline states that no upstream oil company in the Nigerian Oil and Gas Industry is permitted to release a staff by way of dismissal, termination, and redundancy, except
Read more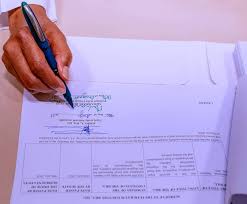 It is without doubt that the Petroleum Industry Act of 2021 has introduced far reaching legal and regulatory changes and new introductions to the oil and gas industry in Nigeria. One of such new introductions can be found in Chapter 3 of the Act. Pursuant to the said Chapter 3, the Act mandates settlor oil companies to incorporate Host Community Development Trusts.
Read more
Nigeria has been ranked poorly on the World Bank's Universal Health Coverage Basic Index.Although access to healthcare by all Nigerians through the minimum basic health service packages is backed by the National Health Act, yet these packages have faced huge challenges in dissemination and implementation.
Read more
We Congratulate all the Winners of the Dafe Akpedeye SAN Essay Competition 2022.
Read more
EID MUBARAK from all of us at COMPOS MENTIS LEGAL PRACTITIONERS.   #EidalFitr #ComposMentis #PremeirLawFirm
Read more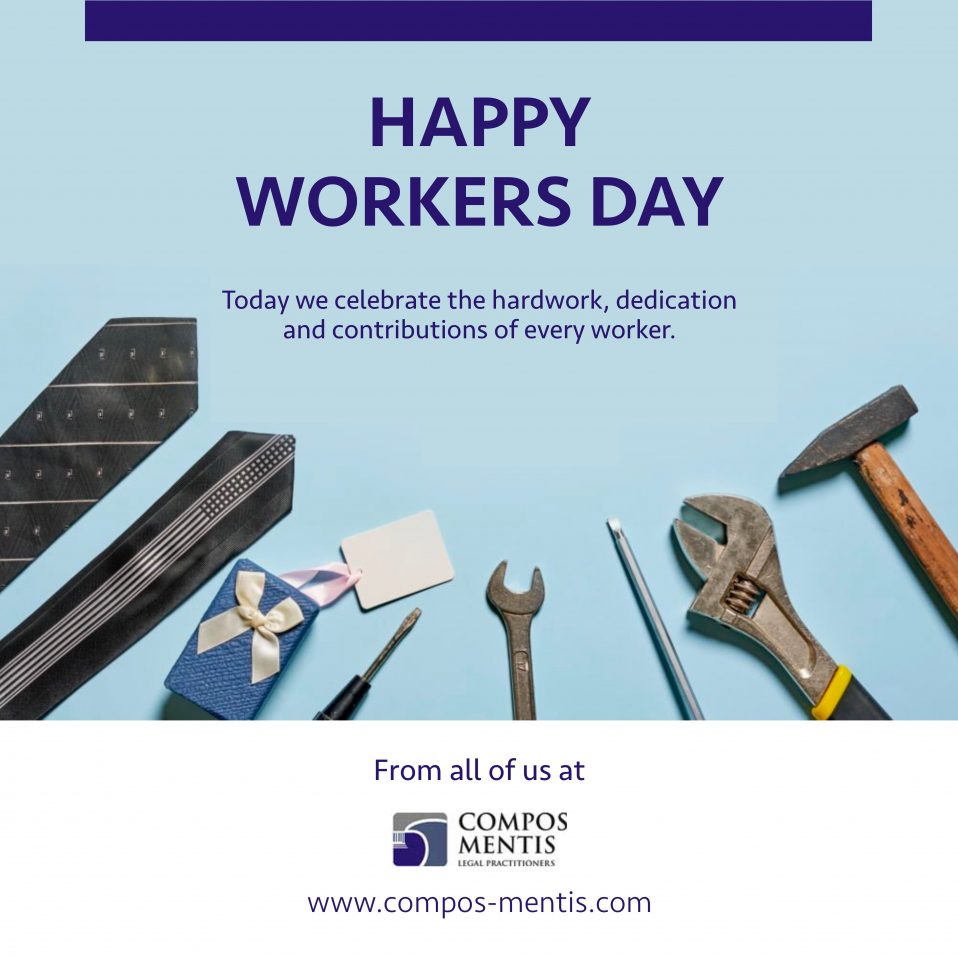 HAPPY WORKERS DAY from all of us at COMPOS MENTIS LEGAL PRACTITIONERS.   #workersday2022 #ComposMentis #PremeirLawFirm
Read more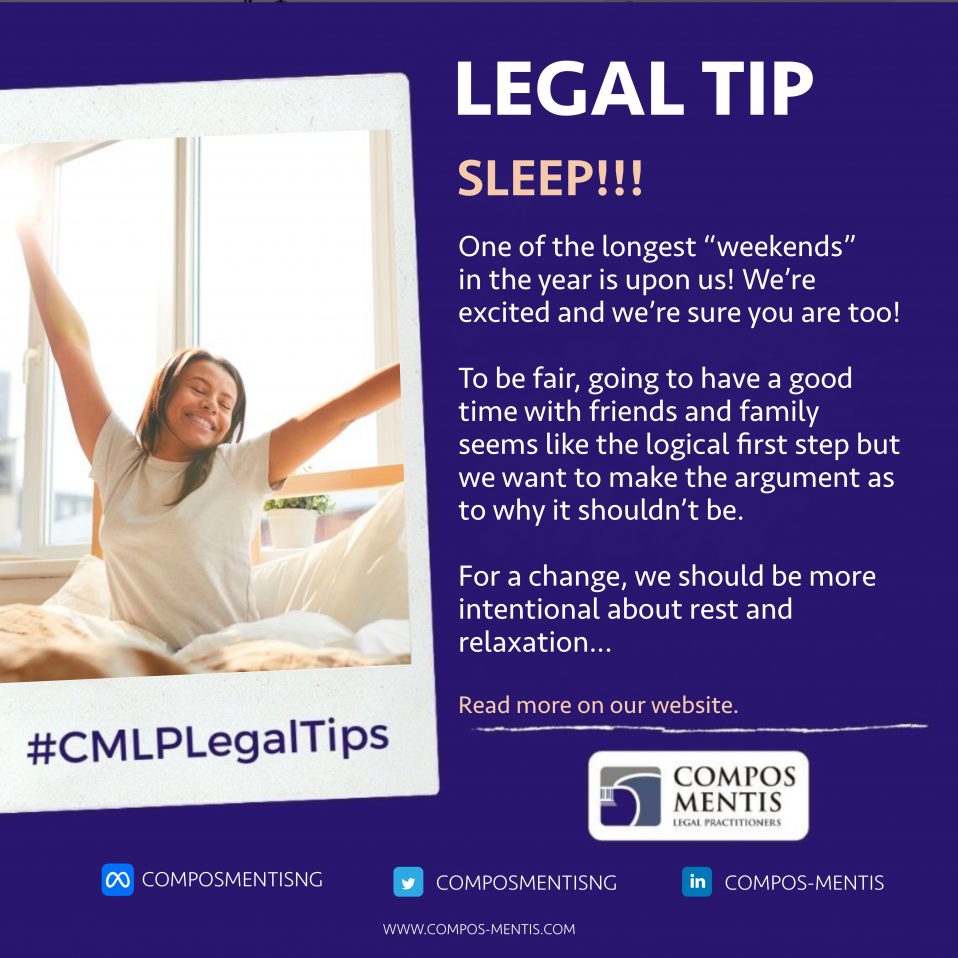 One of the longest "weekends" in the year is upon us! We're excited and we're sure you are too! To be fair, going to have a good time with friends and family seems like the logical first step but we want to make the argument as to why it shouldn't be. For a change, we should be more intentional about rest and relaxation. One study found that when people average four hours of sleep a night for four or five days, they develop the same level of cognitive impairment as if they'd been awake for 24 hours—the equivalent of being […]
Read more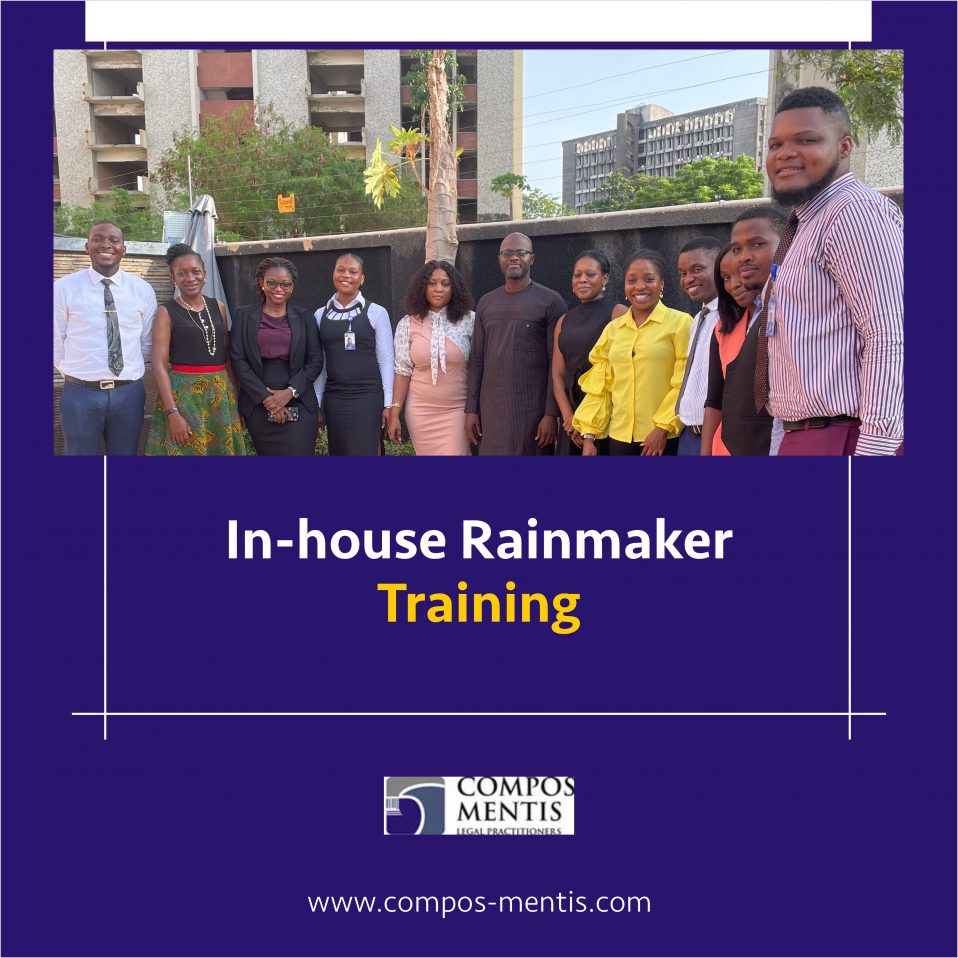 In line with our vision to be Nigeria's Premier Law Firm reputed for delivering sterling services, the Management of Compos-Mentis LP makes it a call of duty to encourage continuous learning and development. On the 10th of April, staff of Compos-Mentis LP attended an in-house Rainmaker workshop held in a luxurious resort at Ikoyi, a high brow area in Lagos State.
Read more
Compos Mentis Legal Practitioners in upholding their continuous reputation of delivering sterling legal services have consistently continued to break newer grounds. The firm has always committed itself to giving life to dormant letters of the law, in achieving client goals. Recently, the Dispute Resolution Unit of the firm won a landmark case at the Federal High Court siting in Asaba, in SUIT NO; FHC/ASB/CS/32/2021- LUCKY OKPERI, ESQ. V. ECOBANK LIMITED & CENTRAL BANK OF NIGERIA. This victory is spectacular for the following reasons; The team tendered and the Court relied on printed phone screenshot of the Facebook page of the […]
Read more